Monday Night Ladies League
. The 2017 season will begin on Monday, April 3rd and will run till the end of September of 2017.
The league plays every Monday night at 5:30 PM and welcomes all caliber of golfers.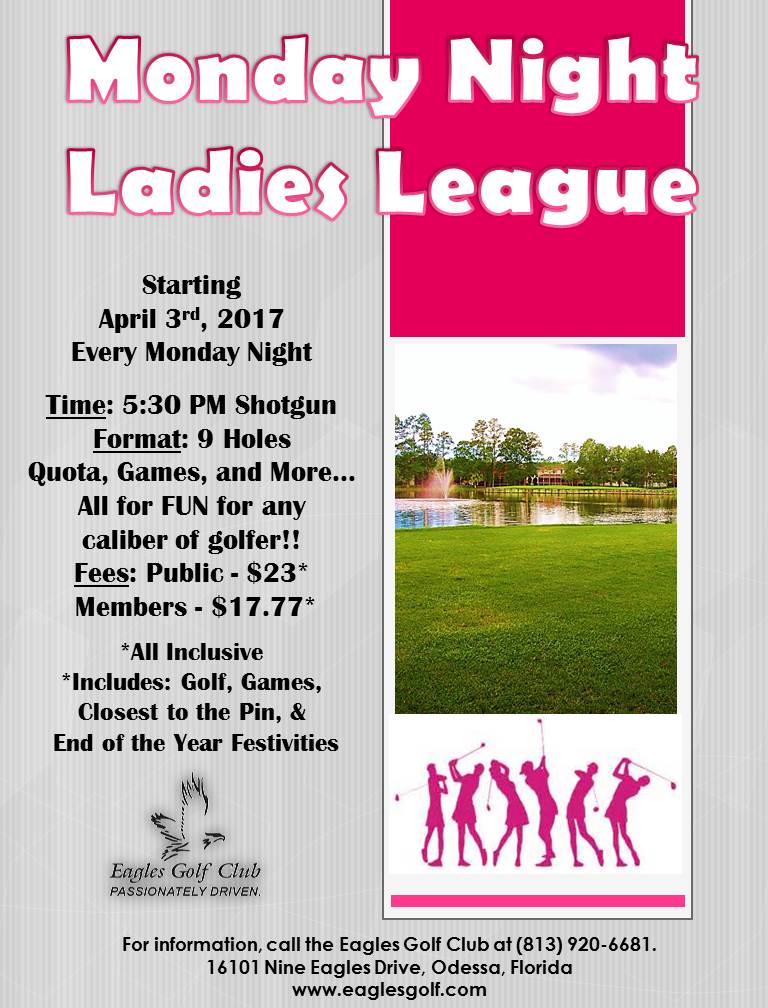 Click Here for the PDF of the 2017 Flyer
Below are the results for the 2017 season. Congratulations to all!
August 14th, 2017

Blind Partners

Bonnie Lovell & Rose Cascio

1st Place

+2

Closest to the Pin

Hole #6

Sandy Schofield

Hole #8

No Winner
August 7th, 2017

4 Hole Quota Game

Bonnie Lovell

T-1st Place

+2

Mary Mansour

T-1st Place

+2

Deb Werner

T-1st Place

+2

Closest to the Pin

Hole #12

Rose Cascio

Hole #17

No Winner
July 31st, 2017

Atlantic City

Karen Doyle

1st Place

+3

Sharon Harrison

T-2nd Place

+2

Elaine Morelli

T-2nd Place

+2

Deb Werner

T-2nd Place

+2

Closest to the Pin

Hole #4

Caroline Bloomquist

Hole #6

Caroline Bloomquist
July 24th, 2017

Quota

Pat Sielski

T-1st Place

+4

Joann Colligan

T-1st Place

+4

Rose Cascio

T-2nd Place

+3

Wendi Carter

T-2nd Place

+3

Mary Mansour

T-2nd Place

+3

Closest to the Pin

Hole #4

Mary Mansour

Hole #6

Jodi Greco
July 17, 2017

Scramble

Lorie Okulove, Pat Sielski, Wendi Carter, & Jodi Greco

1st Place

38

Closest to the Pin

Hole #12

Bonnie Lovell

Hole #16

Bonnie Lovell
July 3, 2017

Quota

Mary Mansour

1st Place

+6

Closest to the Pin

Hole #6

No Winner

Hole #8

No Winner
June 26, 2017

Quota

Beverly Hall

1st Place

+5

Sandy Schofield

2nd Place

+4

Closest to the Pin

Hole #4

Beverly Hall

Hole #6

Mary Mansour
June 12th, 2017

Quota (5 Holes)

Beverly Hall

T-1st Place

+3

Elaine Morelli

T-1st Place

+3

Pat Sielski

T-1st Place

+3

Closest to the Pin

Hole #12

Pat Sielski

Hole #16

No Winner
May 29th, 2017

Quota

Karen Doyle

1st Place

+5

Caroline Bloomquist

2nd Place

+3

Closest to the Pin

Hole #6

Bonnie Lovell

Hole #8

No Winner
May 22nd, 2017

Blind 5

Jodi Greco

1st Place

+6

Rose Cascio

T-2nd Place

+3

Lorie Okulove

T-2nd Place

+3

Closest to the Pin

Hole #4

Karen Doyle

Hole #6

Jodi Greco
May 15th, 2017

Quota

Caroline Bloomquist

1st Place

+6

Rose McCarthy

T-2nd Place

+5

Sandy Schofield

T-2nd Place

+5

Sharon Harrison

T-4th Place

+3

Pat Sielski

T-4th Place

+3

Closest to the Pin

Hole #6

Sharon Harrison

Hole #8

No Winner
May 8th, 2017

Even or Odds

Mary Mansour

1st Place

+4

Lorie Okulove

T-2nd Place

+3

Jacqui Sequeira

T-2nd Place

+3

Closest to the Pin

Hole #4

Bonnie Lovell

Hole #6

Caroline Bloomquist
May 1st, 2017

Quota

Sandy Schofield

1st Place

+4

Lorie Okulove

2nd Place

+3

Sharon Harrison

3rd Place

+2

Closest to the Pin

Hole #6

Sandy Schofield

Hole #8

No Winner
April 24th, 2017

Low Putts

Deb Werner

1st Place

16 putts

Wendi Carter

T-2nd Place

17 putts

Rose McCarthy

T-2nd Place

17 putts

Bonnie Lovell

T-2nd Place

17 putts

Closest to the Pin

Hole #4

Deb Werner

Hole #6

Wendi Carter
April 17th, 2017

Fairway, Green, 2-Putts

Wendi Carter

1st Place

18 pts

Pat Sielski

T-2nd Place

16 pts

Sandy Schofield

T-2nd Place

16 pts

Bonnie Lovell

4th Place

15 pts

Closest to the Pin

Hole #6

Sharon Harrison

Hole #8

No Winner
April 10th, 2017

Game: Contest Holes

Hole #1

Lori Okulove

Hole #2

Caroline Bloomquist

Hole #3

Mary Mansour

Hole #4

Sandry Schofield

Hole #5

Beverly Hall

Hole #6

Pat Sielski

Hole #7

Wendi Carter

Hole #8

Pat Sielski

Hole #9

Elaine Morelli
April 3rd, 2017

Closest to the Pin

Hole #6

Joanne Colligan

Hole #8

No Winner
If you are intersest in joining the Monday Night Ladies League or have any questions regarding the league, call the Eagles Pro Shop at (813) 920-6681 or e-mail Whitney Wenglasz at wwenglasz@eaglesgolf.com
May 29th, 2017

Quota

Karen Doyle

1st Place

+5

Caroline Bloomquist

2nd Place

+3

Closest to the Pin

Hole #6

Bonnie Lovell

Hole #8

No Winner
July 24th, 2017

Quota

Pat Sielski

T-1st Place

+4

Joann Colligan

T-1st Place

+4

Rose Cascio

T-2nd Place

+5

Wendi Carter

T-4th Place

+3

Mary Mansour

T-4th Place

+3

Closest to the Pin

Hole #4

Mary Mansour

Hole #6

Jodi Greco